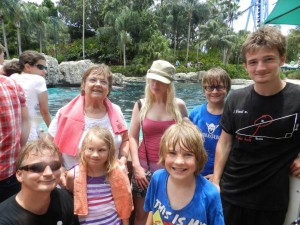 Each year, as summer blooms fully into hot days and warm nights, I pack up my 1996 VW Eurovan and take the kids on what they have all dubbed our Great Adventure. Most years we pull the 1976 pop-up that we all renovated together behind us and stop to camp each night on our way to a National Park or Canadian city.  This year, as the kids planned a trip to Colorado to see Pike's Peak, a different idea settled into my mind. Disney. In the eleven years that we have lived in Minnesota, we have regularly promised a visit to the Magic Kingdom without ever making it a reality. My oldest son graduated from high school this Spring and I couldn't stomach the idea of sending him off to college before he had the opportunity to meet Mickey Mouse and visit It's a Small World. I'm sure it will come as no surprise that my plans took no convincing. All of the kids were on board as soon as I suggested it.
And here's where it started to get tricky. The planning. I'm not a planner. I'm a fly-by-the-seat-of-my-pants kind of gal, and that's why our camping trips work out so well for me. Traveling for me involves spending an afternoon packing for the kids, airing out the pop-up, and filling up the van with gas.  We all decide on a final destination and then just let our journey be what it is.  We find engaging and exciting stops along the way and pick our campgrounds at the last minute.  Adventure seems to follow us and we always come home with great stories from our travels to cement the memories in our minds.
When I mentioned the Disney trip to my mother, she announced that she was "all in" too. Add my brother. They were both flying in from out-of-state to meet us there. My husband had to work the week of our trip, but he didn't want to miss out on the experience either. As we booked his plane ticket for the weekend of Disney, and I reviewed my mother's travel itinerary it occurred to me that our adventure had become about the destination, not the journey. I was in uncharted territory.  I developed a time-line and for the first time in the history of my travels with the children, plotted our daily drive on the map, and made our hotel reservations in advance. The trip had grown too big to allow for the pop-up.
A feeling of uneasiness settled into my mind as I developed packing lists, and printed out reservations and discount Disney park tickets to put away for safe-keeping. The travel what if kept me up the night before we left.
What if
we got a flat tire
the van broke down
I lost the original credit card that I had made my Disney reservation with (a requirement to get our tickets)
My mind had the ability to keep the what-if list going without end.  The biggest what-if that plagued me on this, our most planned and precise Great Adventure though, was what if we focused so much on the destination that we did not enjoy the journey.
Every day was meticulously planned, and surprisingly, our plans came together.
I spent a day at the beach with the kids before extended family arrived. There was a trip to Sea World followed by Disney's Magical Kingdom and Universal Studios. Exhausted family members made their connecting flights home, and the kids and I snuck in an extra day at the hotel pool while I packed for the long trip back. There was endless chatter about the fun we had all had. "Mommy, you made all of my dreams come true," our seven year old, Zoe, whispered in my ear our last night.  Our trip, despite its tireless, exact schedule had been a success. The destination was as fulfilling as the journey.
We had driven down to Disney in 3 days but were hoping to make the return trip in two.  The kids charged their game systems and portable DVD players and we settled in for the long journey home together.  We didn't stop to visit the attractions like we usually do, but there was plenty of adventure to be had right in the van…..like the time that Alex and Aidan started spitting ice at each other and then progressed to spitting Milk Duds at each other. Aidan decided to chew up a big ball of caramel then and spit it at Alex, who deftly stuck it in Aidan's hair.  In the middle of nowhere Kentucky, I pulled over at a gas station to scold a smiling Alex and console a sobbing Aidan.
Adventure.
It was there, still following us, despite the planning and worry.  I learned that planning the trip gave us the opportunity to visit with family and enjoy an experience that we would otherwise have missed out on, and that our special brand of adventure always comes along for the ride whenever we are together.
Aidan's hair turned out okay. I had to buy a portable razor from the gas station shop to carefully remove the tangerine-sized caramel while he sat and glared at Alex.  Both boys are talking about the Milk-Duds catastrophe weeks later.  I imagine twenty years from now that they will be sitting around a bonfire with their own families telling the story of our trip to Disney and the time that Alex stuck Milk Duds in Aidan's hair. I hope they remember to mention all of the fun that we had in the parks too!